21 Dec

Cucumber Avocado Soup with Spicy Shrimp and Almonds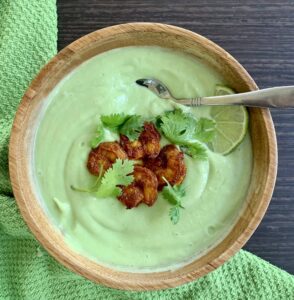 Serves 3 to 4
Preparation time: 40 minutes
INGREDIENTS:
For the shrimp:
4 cloves minced garlic
2 tsp. extra virgin olive oil
1 tsp. ground paprika
1/2 tsp. cayenne pepper or to taste
Salt and pepper to taste
12 medium size shrimp, peeled and deveined
1/2 blanched whole almonds
2 Tbsp. butter
For the soup:
3 seedless cucumbers also called gourmet cucumbers chopped
1 ripe avocado
Zest and juice of 1/2 lime
2 scallions chopped
1 cup buttermilk
1 cup fat free chicken broth
1 Tbsp. honey
Pinch of cumin
1 tsp. chopped fresh mint
Salt and white ground pepper to taste
INSTRUCTIONS:
Combine first five ingredients for the shrimp and mix well. Coat shrimp well and marinade for 1/2 hour. Combine all ingredients for soup in a food processor or blender and puree until smooth. Season with salt and pepper. Chill in refrigerator. Melt butter in large pan and cook shrimp about 2 minutes, turn shrimp over and add almonds and cook for another 2 minutes or until shrimp is cooked through. To serve: Ladle soup into bowls. Place three shrimp and some almonds on top of the soup and drizzle with remaining butter sauce and garnish with some mint leaves. Serve immediately.