13 May

Cheesy Scrambled Eggs and Shrimp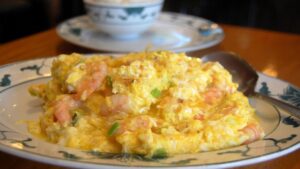 Serves: 4
Prep: 5 minutes
Cook: 5 minutes
Total: 10 minutes
INGREDIENTS:
16oz. 21/25 peeled and deviened shrimp
8 large eggs lightly beaten
½ cup chicken broth
1 tsp rice wine
2 tsp oyster sauce
¼ cup thinly sliced green onion
4 Tbsp frying oil
½ cup shredded cheddar cheese
Salt and pepper to taste
INSTRUCTIONS:
Thaw shrimp and let dry then in a bowl add beaten eggs and stir in the chicken broth, rice wine, oyster sauce, green onion, salt and pepper to taste.
Preheat skillet and add 2 tablespoon oil then add the shrimp. Briefly stir fry until they turn pink then remove and drain.
Add 2 more tablespoon oil and turn up the heat to high then add egg mixture scrambling gently for I minute then add the shrim. Continue scrambling until the eggs are almost cooked yet still moist then remove form the heat add cheese and let sit one minute before serving.