17 Jul

Bacon Wrapped Filet Mignon with Shrimp Stuffing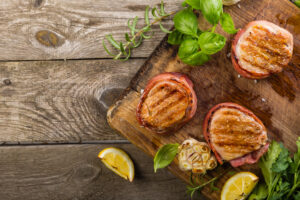 Serves: 4
Prep Time: 20 minutes
Cooking Time: 40 minutes
Total: 60
Ingredients
4 (8oz) filet mignon steaks
4 slices of bacon
8oz sail brand peeled and deveined tail off shrimp diced
1 thick slice of potato bread
2/3 cup chicken broth
3 cloves garlic minced
3 sprigs fresh thyme
2 tbsp flour
2 tbsp butter
2 tbsp olive oil
1 tbsp tomato paste
Vegetable cooking spray
Salt
Pepper
1 tsp Worcestershire sauce
Directions
Preheat oven to 400 degrees. Spray a small baking sheet with vegetable cooking spray.
Wrap one slice of bacon around each steak, and secure with a toothpick. Season with salt and pepper to taste
Heat the oil in a large skillet. Add steaks and sear on both sides, about 4 minutes on each side.
Transfer steaks to the baking sheet and let cool while you prepare the shrimp stuffing
In the same skillet, melt the butter and add the garlic. Cook until softened and fragrant, about 3 minutes.
Add the flour, and cook for 3 minutes longer. Add the chicken broth and stir until thickened.
Add the tomato paste, Worcestershire sauce, and shrimp. Remove from heat.
Pulse the bread and thyme in a food processor until crumbly.
Add the bread crumbs to the shrimp mixture to finish the stuffing.
Cut a large "X" in the top of each steak going 2/3 the way through the steaks and stuff with the shrimp mixture.
Bake the steaks for 5-7 minutes, or until and internal temperature of 125 degrees is attained.
Let stand 10 minutes before serving.