10 Oct

Battered Pollock on Brioche with Homemade Potato Chips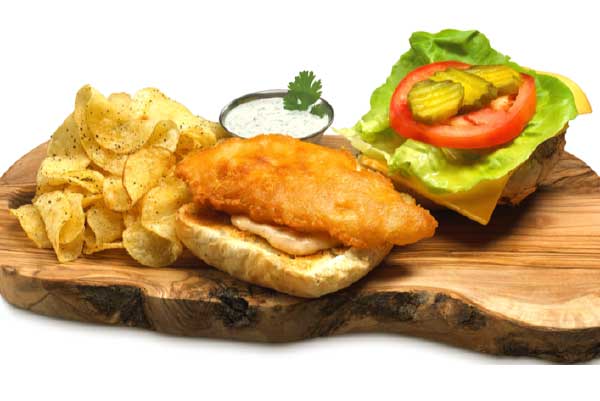 Serves: 2
Prep Time: 40 minutes
Cook Time: 20 minutes
Total Time: 60 minutes
Ingredients:
2 2-3oz golden harvest battered pollock
2 brioche buns sliced in half
6 slices of pickle
2 slices beefsteak tomato
2 pieces of butter lettuce
SW Ranch ingredients:
1/4 cup mayonnaise
1/4 cup sour cream
1 teaspoons chili powder (start with 3/4 teaspoon if you aren't a fan of too much heat)
1/2 teaspoon cumin
1/4 teaspoon paprika
1/4 teaspoon dried dill weed
1/4teaspoon dried parsley
1/4 teaspoon dried chives
1/4 teaspoon dried oregano
1/4 teaspoon onion powder
1/4 teaspoon garlic powder
1/16 teaspoon crushed red pepper flakes
1/16 teaspoon cayenne pepper
1/2 teaspoon kosher salt adjust to taste
1/4 teaspoon finely cracked pepper adjust to taste
Freshly squeezed lemon juice lime works too, approximately 1-3 teaspoons, adjust to taste
Mix all ingredients and place in cooler.
Green Goddess:
1 large egg yolk
1 teaspoon Dijon mustard
2 tablespoons freshly squeezed lemon juice
1 cup olive oil
1 cup fresh flat-leaf parsley leaves
3 tablespoons minced fresh chives
2 tablespoons fresh tarragon leaves
2 teaspoons anchovy paste
1 clove garlic, chopped
3/4 cup plain Greek yogurt or sour cream
Kosher salt
Pulse the egg yolk, Dijon mustard, and lemon juice in a blender with a few quick pulses. Turn the blender on and drizzle in the oil in a thin, steady stream. Continue to blend until the mixture is light in color and thick.
Stop the blender and scrape down the sides. Add the parsley, chives, tarragon, anchovy paste, and garlic. Blend until smooth and vibrant green.
Place the Greek yogurt or sour cream in a medium bowl. Add the herb mayonnaise and stir to combine.
Homemade Potato Chips
INGREDIENTS:
2 medium russet potatoes
1 tbsp. salt
1 quart deep frying oil
PREPARE HOMEMADE CHIPS PRIOR TO PREPARING FISH SANDWICH
Place potato slices into a large bowl of cold water as you slice. Drain, and rinse, then refill the bowl with water, and add the salt. Let the potatoes soak in the salty water for at least 30 minutes. Drain, then rinse and drain again.
Heat oil in a deep-fryer to 365 degrees F (185 degrees C). Fry potato slices in small batches. Once they start turning golden, remove and drain on paper towels. Continue until all the slices are fried. Season with additional salt if desired.
Fry battered pollock for 4 ½ to 5 ½ minutes and place on wire rack.
Toast brioche buns to desired crispness and then assemble spreading the southwest ranch on the bottom of the bun, then proceed building sandwich on the open-faced top part of bun with cheese, butter lettuce, beefsteak tomato and pickles.
Place fish on bottom portion of bun with SW Ranch on it, then place homemade chips next to sandwich with green goddess sauce for the chips.