10 Oct

Breaded Pollock and Brussel Sprouts with Sweet Thai Chili Sauce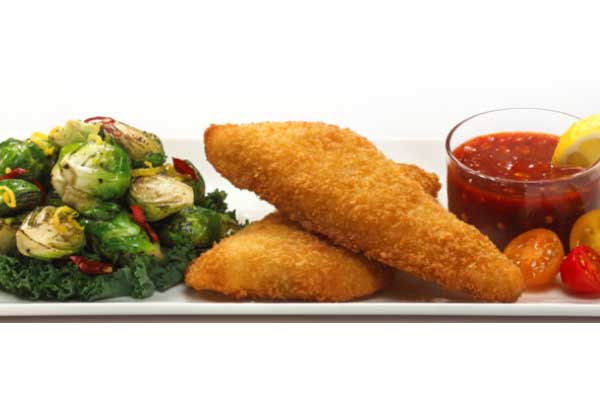 Serves: 2
Prep Time: 10 minutes
Cook Time: 40 minutes
Total Time: 50 minutes
Ingredients:
4-2-3oz Golden Harvest Panko Breaded Pollock
1 cup plus 2 tablespoon water, divided
Heat oil to 350 f and cook pollock 5-6 minutes
Brussel Sprouts
¾ lb trimmed and halved brussel sprouts
2 tblsp olive oil
½ tsp pink sea salt
¼ tsp ground black pepper
Tsp garlic powder
Method:
Pre heat oven to 425 f then in a small bowl mix all ingredients together ensuring all sprouts are completely coated.
Then place on a foil lined cookie sheet and place in oven for 30-45 minutes until crispy but not burned.
Sweet Thai Chili Sauce:
2 tablespoons cornstarch
3 medium cloves of garlic, minced (about 1 tablespoon)
2 tablespoons finely chopped fresh Fresno, red Thai chilies, or red jalapeño peppers (seeds left in for a hotter sauce)
2/3 cup sugar
1/3 cup rice vinegar
2 teaspoons salt
Method:
In a small bowl, whisk together 2 tablespoons water and cornstarch. Set aside.
In a medium saucepan, mix together remaining 1 cup water, garlic, peppers, sugar, vinegar, and salt. Bring to a boil over medium heat, reduce heat and simmer for 3 to 5 minutes.
Stir cornstarch mixture to re-combine, then whisk into simmering sauce and cook until thickened, about 1 minute more. Remove from heat, let cool, and use immediately or store in an airtight container in the refrigerator. "NOTE, THIS CAN BE DONE A DAY IN ADVANCE".