10 Oct

Breaded Pollock Taco with Papaya Salsa and Chipotle Slaw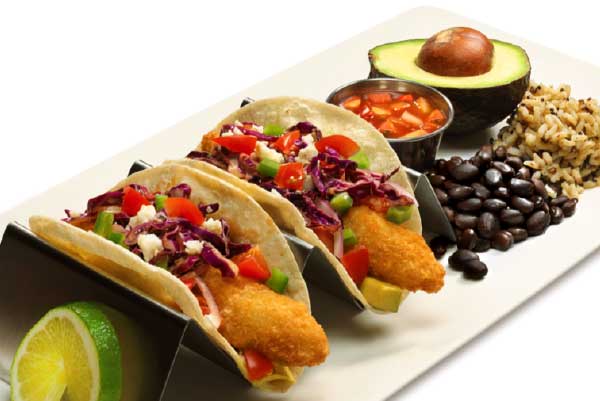 Serves: 2
Prep Time: 10 minutes
Cook Time: 10 minutes
Total Time: 20 minutes
Ingredients:
Tacos:
4 1-2oz golden harvest breaded pollock
¼ red pepper julienne
¼ yellow pepper julienne
¼ cup diced tomato
¼ cup diced avocado
4 6 inch corn tortillas
Chipotle Slaw:
1 cup shredded purple cabbage
Juice of ½ lime
1tsp chipotle adobo sauce
1 tblsp mayonnaise
Salt to taste
COMBINE IN A BOWL ALL THE COLESLAW INGREDIENTS UNTIL NICELY COATED THEN SET ASIDE.
Papaya Avocado Salad:
¼ cup diced papaya
½ diced avocado
2 tblsp diced red onion
2 tblsp fresh chopped cilantro
½ tblsp diced jalapeno
1 tblsp red wine vinegar
Salt and pepper to taste
Method:
Preheat oil to 350 f
Preheat grill to medium high heat, about 375-400 f
Mix all salsa ingredients and set aside in cooler
Season peppers with avocado oil, salt and pepper then char on the grill then place in a large bowl
Cook breaded pollock in 350 f oil for 2 ½ to 3 ½ minutes
Grill tortillas for 30 seconds on each side
Assemble taco with fish first then the other taco ingredients on top finish with chipotle slaw on top.
Garnish lime, cilantro and avocado.
NOTE: RICE AND BEANS ARE OPTIONAL BASED UPON TASTE.