10 Oct

Breaded Shrimp Lettuce Wraps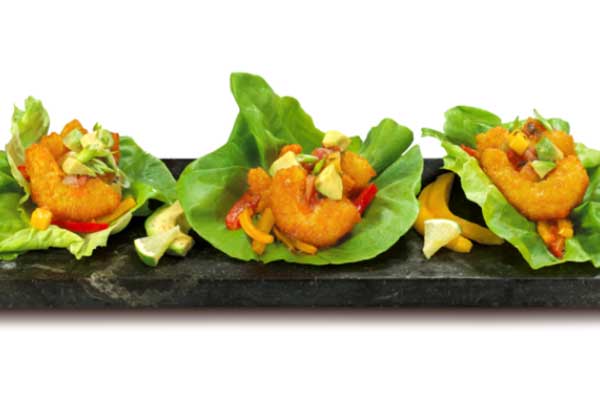 Serves: 2
Prep Time: 10 minutes
Cooking Time: 4 minutes
Total Time: 15 minutes
Ingredients:
Taco:
12-31/40 golden harvest round breaded tail off shrimp
½ red bell pepper julienne
½ yellow bell pepper julienne
6 butter lettuce cups or ice berg
1 tblsp avocado oil
Sliced green onion for garnish
Avocado Mango Salsa:
½ cup diced mango
1 ½ diced avocado
2 tblsp diced red onion
2 tblsp fresh chopped cilantro
1 tsp minced jalapeno
Juice of 1 lime
½ tblsp red wine vinegar
Method:
Preheat fryer to 350 f, meanwhile in a small bowl assemble all ingredients for the salsa then stir in until it is all mixed then store in the cooler.
Season julienne with salt and avocado oil then toss and grill for 4-5 minutes until peppers are slightly charred then set aside.
Cook shrimp for 2 ½-3 minutes.
Arrange lettuce leaves on a plate and assemble peppers and shrimp on top then top with the salsa. Garnish with green onion and lime.