05 Mar

Creamy Garlic Shrimp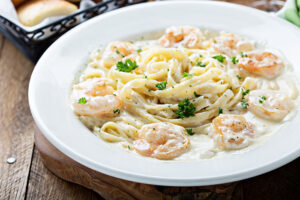 Serves: 4
Prep Time: 10 minutes
Cooke Time: 10 minutes
Total: 20 minutes
INGREDIENTS:
1 tablespoon olive oil
16oz 16/20, peeled, deveined, tail off Sail Brand shrimp
2 tablespoon unsalted butter
3 tablespoons minced garlic
¼ cup dry white wine
¼ cup chicken broth
1 ½ cups heavy cream
½ cup fresh grated parmesan cheese
2 tablespoons fresh chopped parsley
Salt and pepper to taste
INSTRUCTIONS:
Heat a large skillet over medium/high heat. season shrimp with salt and pepper then saute' 1-2 minutes per side or until just cooked through and pink.  Transfer to a bowl and set aside
Melt butter in the same skillet then saute' garlic until fragrant, "apprx. 30 seconds".   Add in wine and broth then allow to reduce by half while scraping any bits off bottom of the pan.
Reduce heat to low medium, add the cream and bring to a gentle simmer, while stirring occasionally then season with salt and pepper to taste.
Add parmesan cheese and allow sauce to gently simmer for another minute or until the cheese melts and thickens sauce.
Add the shrimp back to the pan, sprinkle with parsley.
Serve over pasta or rice with a side of vegetables.