13 May

Dad's Day Grilled Shrimp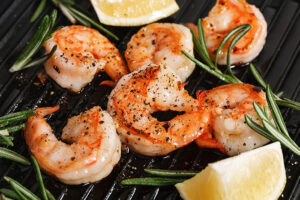 Serves: 4
Prep: 15 min
Cook: 15 min
Total: 30 min
INGREDIENTS
2 lbs. Sail Brand shell on headless Mexican U12 brown shrimp
Salt
Canola oil
Sugar cane skewers (if you can find them)
Bamboo skewers
Rosemary branches
Garlic chunks, smashed
2 Tbsp freshly squeezed lemon juice
Butter, melted
INSTRUCTIONS
Thaw out shrimp in cold running water, then pat dry after thawing.
To prepare the shrimp, use the bamboo skewers to run the length of the shrimp and remove the digestive tract, keeping the shell on. Then place rosemary branch and sugar cane skewer in the void left by the bamboo skewer.
Combine canola oil, garlic chunks, and lemon juice in a bowl and mix well.
Transfer shrimp to a large bowl and pour marinade over shrimp, letting it sit refrigerated for two hours, then remove.
Preheat grill to medium high, then place skewered shrimp on the grill for approximately 2 minutes on each side.  Serve with rice or your favorite roasted vegetable medley.