30 Jan

Deep Dish Shrimp Pizza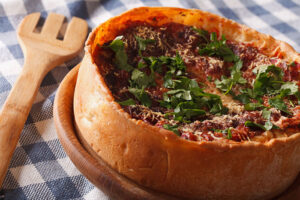 Serves: 6 to 10
Total Time: 1hr 5 minutes
Ingredients:
DOUGH:
2 ¼ teaspoons active dry yeast
1 ½ teaspoons white sugar
1 1/8 cups warm water 110-115f
3 cups all purpose flour
½ cup olive oil blend
1 ½ teaspoons kosher salt
Dissolve yeast and sugar warm water in a bowl then let stand 5 to 10 minutes until the yeast softens and begins to form a creamy foam
Combine yeast mixture, flour, olive oil, and kosher salt in a large stand mixer with the hook attachment and knead until dough holds together but is still slightly sticky, about 2 minutes
Form dough into a ball and transfer to abutter bowl, turning to coat then cover bowl with a towel and allow dough to rise at room temperature until it is double in size, about 6 hours
Punch down dough and let rest for 10 to 15 minutes then press dough into a greased 12 inch cast iron skillet in the center. Spread dough evenly towards the bottom edge and 1 ½ inches up the sides.
PIZZA TOPPINGS
4 tablespoons extra virgin olive oil
2 tablespoon unsalted butter, softened
10 oz whole milk low-moisture mozzarella shredded or sliced thin
1 cup of high quality marinara sauce or 1 ½ cups high quality canned tomatoes strained
3 cloves garlic minced
1 tablespoon dried oregano
½ cup parmesan
1 lb 31/35 Sail brand peeled, deveined, tail off shrimps
½ cup chopped onion
Preheat oven to 400f then heat a skillet with 2 tablespoons olive oil then add shrimp and onion. Cook shrimp completely then remove and set aside
To maximize the crispiness place shrimp evenly on the dough, followed by the mozzarella and marinara. Sprinkle garlic, oregano and onion on top.  Finish with the parmesan and drizzle with remaining olive oil.
Place pizza on the bottom rack of the oven and cook until the edge of the crust is golden brown and crusty, about 30 to 35 minutes. Remove let rest for 5 minutes then serve.