17 Jun

Drunken Shrimp Ceviche Tower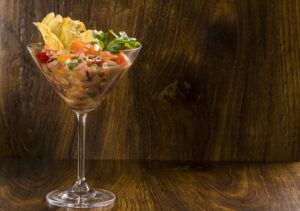 Serves: 4
Prep Time: 15 minutes
Marinate time: 30 minutes
Total Time: 45 minutes
Ingredients
1 lb 16/20 peeled and deveined shrimp cooked and roughly chopped
2lb fresh chopped tomato
½ cup diced jicama
½ cup diced peeled cucumber
½ cup ripe avocado diced
2 tbsp hot sauce of choice
½ cup ketchup
½ cup fresh lime juice
½ cup fresh squeezed orange juice
½ cup chopped red onion diced into ¼ inch pieces
1/3 cup roughly chopped cilantro plus several sprigs reserved for garnish
2 tbsp extra virgin olive oil
Garnish:
5 pork rinds
1 whole jalapeno
2 scotch bonnet peppers
Tblsp crushed red pepper flake
1 small avocado cut in half skin on seed removed
5 whole shrimp tail on cooked
3 slices of cooked bacon
2  cooked 16/20 breaded butterfly shrimp …optional
2  twelve inch skewers  several frilled toothpicks
Instructions
In a blender combine fresh tomato, orange juice, hot sauce, ketchup, and lime juice.  Puree until smooth. Strain and leave mix to chill

Combine shrimp with remaining ingredients and marinate in the fridge for 30 minutes

Mix all ingredients together and refrigerate at least one hour.  If desired 5oz tequila can be added

While ceviche is marinating assemble garnish onto twelve-inch skewers alternating product as you ascend the skewer.

Remove ceviche and pour into a 1-quart mason jar placing the skewer garnish into the jar and arrange whole tail on cooked shrimp around the rim of the jar.