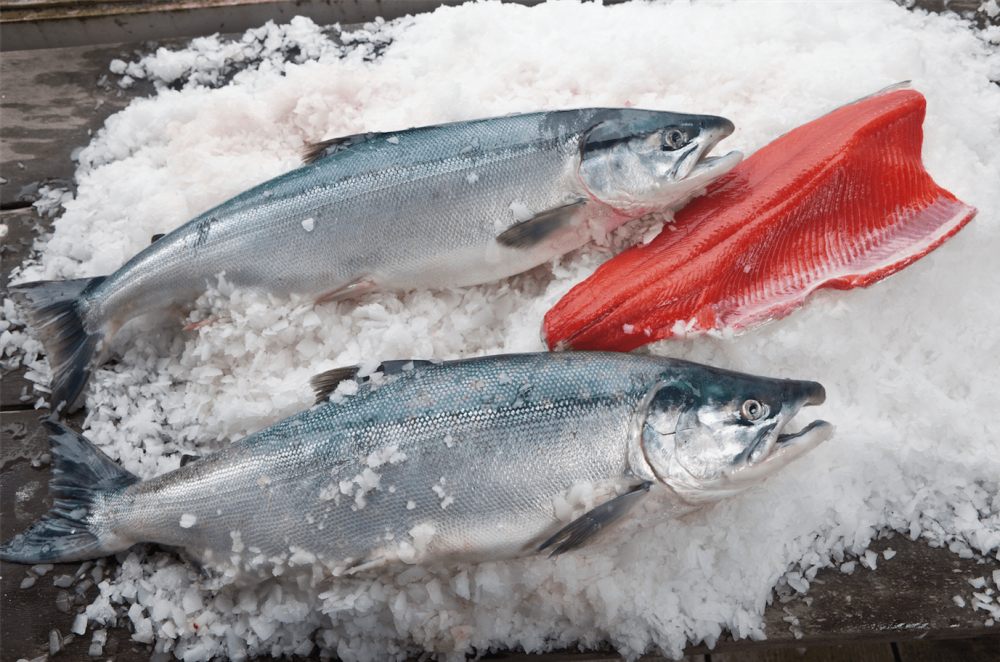 16 Jul

From Our Tackle to Your Table: The Processing Journey of Alaskan Salmon

Every day, thousands of American families gather around the dinner table for a fresh, home-cooked meal, and many of those households are enjoying a delicious seafood meal from Eastern Fish.

Let's take a look at the journey a fish takes from our catch to your kitchen.
Step #1: Our North Pacific Fishing Boats
The supply chain starts on our fishing boats off of the Alaskan coasts, with our fishers who spend their days sailing to find only the best salmon, for you and your family.
Any fish that are caught by our nets are carefully inspected and graded by our crews before being placed in our storage tanks. These tanks are the perfect chilly temperature, which helps the fresh catch last their trip to the factory without prematurely starting the freezing process.
Step #2: Our Top-of-the-Line Alaskan Factories
Once the fish reaches our factories, it is quickly washed and cleaned. No preservatives or additives are used during any part of the process; the only thing you'll taste is the natural fish flavor.
Next, the clean fish are taken to the deheading and gutting station and then to the fillet machine. After, the fillets will go through pin bone machine.The fillet surface is then cleaned before it goes through the vacuum seal process. Once vacuum sealed, the fish is flash frozen to preserve the quality and flavor of the fish.
Finally, before our fish products enter our system, we do one final quality inspection to make sure you are getting the highest-quality meats possible.
Step #3: Your Community Grocery Stores
Once our product gets the final seal of approval, it joins the rest of our seafood options in our cross-country transport network and is delivered to your grocery store as quickly as possible.
Community grocery stores are integral to Eastern Fish's growth and philosophy because they tell us what our customers enjoy and what new products they would like to try out. By serving you and keeping in contact with grocery stores, it completes our supply chain and helps us navigate the waters for when we go back to the boats and lower our nets.
Eastern Fish believes that no matter where you live in the country, you and your family should have access to only the best tasting and most natural fish products. Between JustFish by Eastern Fish Co. and the seven factories operated by our sister company, North Pacific Seafoods, Inc., we're proud to bring the freshest Alaskan products right to your table. Want to know more about our products and services? Give our seafood experts a call today at 800-526-9066 or visit us online and sea our meal options from across the globe.