17 Jul

Grilled Shrimp Wrapped in Glazed Bacon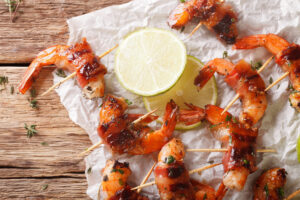 Serves: 4
Prep Time: 15 minutes
Cooking Time: 15 minutes
Total: 30 minutes
Ingredients
Shrimp
1lb Sail Brand 16/20 peeled and deveined tail on red argentine shrimp
1lb thin sliced bacon
2oz lump crab meat
1 clove garlic minced
2tsp thinly sliced green onion
2tsp sriracha sauce
6oz sweet and spicy apricot glaze (divided)

Sweet and Spicy Apricot Glaze
½ cup apricot preserves
¼ cup rice vinegar
¼ cup water
½ tbsp chili garlic sauce
1 clove minced garlic
Salt
*Mix ingredients together in a small sauce pot over medium heat.  Bring to a gentle boil and reduce heat to simmer for 15 minutes, stirring often to prevent sticking.  Store in an airtight container until ready to use.
Directions
Thaw shrimp then using a sharp knife carefully butterfly each one.
Preheat oven to 415*, place bacon on aluminum foil lined baking sheet and cook for 10 minutes. Drain bacon on a paper towel.
Heat grill for indirect, 2 zone grilling.
In a small bowl mix room temperature cream cheese with crab, garlic, green onion, and sriracha sauce.
Fill each shrimp with 1tsp of cream cheese mixture and wrap with a slice of bacon.
Arrange shrimp on greased wire cooling rack and place on indirect heat side of grill.
Grill shrimp for 8 minutes or until shrimp turn pink and bacon browns.
Brush half of the sweet and spicy apricot glaze over each shrimp reserving the remainder for serving.
Cook shrimp an additional 2 minutes and remove from heat
Serve shrimp with glaze for dipping.