22 Jun

Mojito Marinated Shrimp with Mango Slaw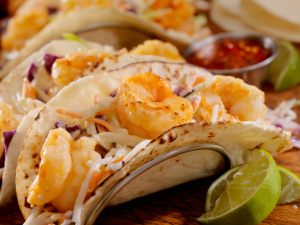 Succulent moist marinated shrimp.  Recipe serves 4.  
INGREDIENTS
2 lb. of large shrimp, peeled and deveined, tail on
Marinade
1/3 cup extra virgin olive oil
20 fresh mint leaves, thinly sliced
¼ red onion, minced
Juice from 1 lime and chopped zest
1 tablespoon chopped garlic
2 tablespoon chopped fresh cilantro
2 tablespoon sugar
½ teaspoon sea salt or kosher salt
¼ teaspoon black pepper, course ground
Mango Slaw
1 mango, peeled and thinly sliced
¾ red onion, thinly sliced
½ head green cabbage, thinly sliced
¼ cup Mayonnaise
2 tablespoon marinade (above)
PREPARATION
Add all marinade ingredients in large bowl. Mix thoroughly.  Set aside 2 tablespoons for slaw.
Add shrimp to marinade and toss. Let sit for 30 minutes in refrigerator.
While shrimp is marinating, mix all the mango slaw ingredients together.
Heat cast iron or nonstick pan over medium heat. Add shrimp to pan, cook on each side for about 2 minutes. Optional: Remove pan from stove and add 2 tablespoons of rum. Flame or cook for 1 more minute. (Shrimp should reach minimum internal temperature of 145°F.)
Plate the mango slaw and add the shrimp over the top. Enjoy!