23 Apr

Mom's Fried Shrimp Made with Love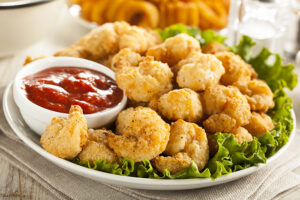 Serves: 4
Prep: 20 minutes
Cook:  10 minutes
Total: 30 minutes
INGREDIENTS:
1 bag 21/25 Sail Brand Red Argentine Shrimp, Peeled and Deveined
4 oz fresh mozzarella cut into strips
24 thin slices of prosciutto
24 thin strips roasted pepper pat dry
½ cup AP Flour
1 large egg
2 tbsp water
Pinch of salt
1 cup panko bread crumb
Desired oil for frying (vegetable, canola, soy, peanut etc.)
INSTRUCTIONS:
Lay out shrimp and butterfly cut so two halves resemble an open book.
Place a strip of mozzarella cheese down the center of shrimp, then a strip of roasted pepper. Close the shrimp and wrap each one with a slice of prosciutto.
Place flour in a small dish. Separately, whisk together the egg, water and salt with a fork.
Place the panko crumbs in another dish, then heat the oil in a large skillet to medium high or 375f.
Dip the wrapped shrimp in the flour to coat, then dip in the egg, and then roll in the panko crumbs until evenly coated.
Fry the shrimp in the hot oil until golden brown, approximately 1 minute per side. Remove and serve with favorite dipping sauce.