10 Oct

Panko Breaded Butterfly Shrimp with Hush Puppies and Cajun Dipping Sauce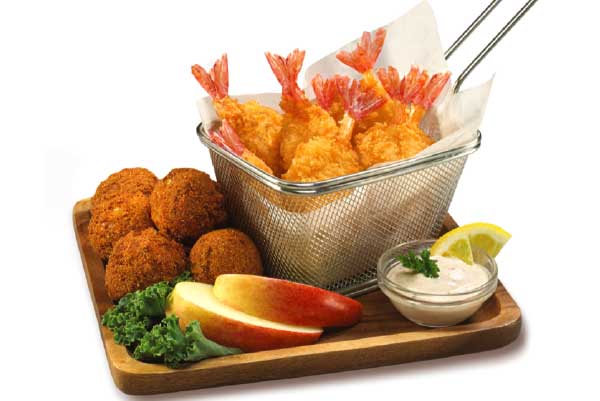 Serves: 1-6
Prep Time: 15 minutes
Cook Time: 15 minutes
Total Time: 30 minutes
Ingredients:
8 16/20 Golden Harvest Panko Breaded Butterfly Shrimp
Hushpuppies:
1 cup yellow cornmeal
1/4 cup all-purpose flour
1 1/2 tsp baking powder
1/4 tsp salt
1 egg, beaten
3/4 cup buttermilk
1/2 cup chopped onion
First heat about 2 inches of oil to 350ºF. When the oil is ready drop the batter by spoonfuls into the oil. Fry until golden brown, about 2-3 minutes. Drain on paper towels. Keep warm in a 200 f oven until the shrimp are prepared.
Cajun Dipping Sauce:
COMBINE THE FOLLOWING AHEAD OF TIME AND STORE IN THE COOLER
1 cup sour cream
1 lemon, juiced
2 tsp honey
1 tsp cajun seasoning
Set oil temperature to 350 f then fry shrimp 2 ½ to 3 ½ minutes
Arrange cooked shrimp in a basket or platter along with the hush puppies and dipping sauce.
Garnish with lemon, apple wedges and parsley