10 Oct

Parmesan Dusted Popcorn Shrimp and Sliced Jalapeño with Homemade Tartar Sauce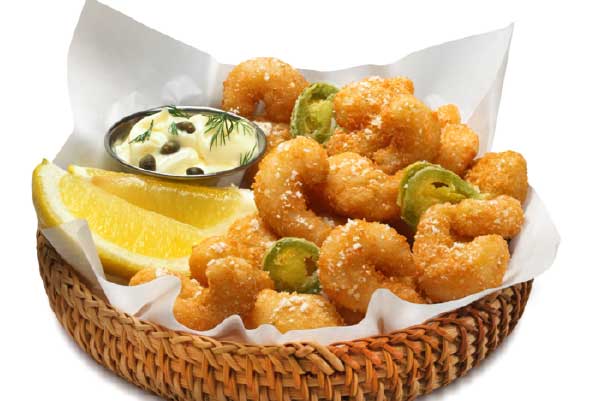 Serves: 4
Prep Time: 10 minutes
Cook Time: 5 minutes
Total Time: 15 minutes
Ingredients:
1 7.5oz pouch 51/60 pouch shrimp
2 fresh jalapeños sliced into ¼ inch thick slices
2 tblsp grated parmesan cheese
¼ cup AP flour seasoned with salt and pepper
2 lemon wedges for garnish
Tsp chopped dill plus two sprigs for garnish
Tartar Sauce:
1/3 cup mayonnaise
2 tblsp minced dill pickle
1 tsp capers
1 garlic clove minced or pressed
1 tblsp lemon juice
¼ tsp salt
¼ tsp black pepper
Instruction:
Heat oil to 350 F meanwhile assemble ingredients for tartar sauce.
Combine all ingredients for tartar sauce and place in cooler, "This can be done one day in advance if needed".
Dredge sliced jalapeño into the flour mixture and fry at 350 F for 60 seconds then remove and set aside on a paper towel.
Open bag of shrimp and fry at 350 F for 2 minutes 30 seconds or until done.
Mix jalapeño with cooked shrimp then toss with grated parmesan cheese then place in a basket with the tartar sauce on the side, garnish with lemon wedges and fresh dill.
Basket breaded popcorn shrimp with sauce trio
Ingredients:
1-7.5Oz pouch of 51/60 basket breaded popcorn shrimp
Fresh lemon wedges for garnish
½ Tsp of dark and light sesame seeds
Thin strands of lemon peel
Cocktail sauce ingredients:
¼ Cup ketchup
½ Tsp worcestershire sauce
½ Tsp lemon juice
½ Tsp horseradish, adjust to taste
Method: combine all ingredients and refrigerate. Garnish with lemon rinds
Hoisin sauce
4 Tablespoons soy sauce
2 Tablespoons smooth peanut butter
1 Tablespoon dark brown sugar
2 Teaspoons rice wine vinegar
1 Garlic clove, finely minced
2 Teaspoons sesame seed oil
1 Teaspoon hot sauce (more or less to taste)
1/8 Teaspoon black pepper
Method:
combine all ingredients in a blender until smooth then refrigerate. Garnish with sesame seeds.
Sriracha aioli:
1/3 Cup mayonnaise
1 Garlic clove minced
½ Tbsp lemon juice
¼ Tsp salt
1/8 Tsp black pepper
2 Tbsp sriracha
Sprig of parsley
Method:
Combine all ingredients in a small bowl stir and store in the cooler. Garnish with parsley
Instruction:
Heat oil to 350 f, meanwhile prepare all sauces as directed and refrigerate.
Remove shrimp from pouch and fry for 2-3 minutes until done.
Place shrimp in a basket with decorative tooth picks.
Arrange the three sauces around the shrimp basket in desired cup and garnish with lemon rind, sesame seeds and parsley