17 Jul

Shrimp and Watermelon Gazpacho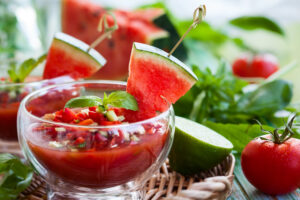 Serves: 4
Prep time: 40 minutes
Ready to serve: 40 minutes
Ingredients
1lb cooked peeled and deveined tail off 16/20 red argentine shrimp
6 cups seeded watermelon
1 cup chopped red bell peppers
½ cup chopped white onion
½ jalapeno minced
¼ cup fresh lemon juice
2 tablespoons olive oil
3 tablespoons fresh mint chopped
2 tablespoons fresh ginger minced
3 tablespoons honey
½ cup pineapple juice
*To prepare the shrimp, slice cooked shrimp in half lengthwise and then in half width wise and set aside until gazpacho is mixed.
*Reserve some pieces of watermelon for garnish.
Directions: 
Place all product except for the shrimp together in a large bowl and mix.
Then in batches place mixture into a blender for approximately 30 seconds per batch.
the mixture should be well blended but still retain some texture.
pour blended product into a large pitcher or bowl add cooked shrimp and refrigerate for one hour.
serve in bowls with garnish of mint and watermelon chunks.