02 Mar

Shrimp Beurre Blanc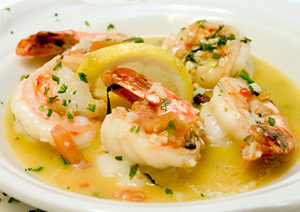 FOR THE SHRIMP
1 lb. jumbo shrimp, peeled and deveined, tail on
Kosher salt and ground white pepper, to taste
Extra virgin olive oil, for sautéing

FOR THE LEMON BEURRE BLANC
1 cup white wine
1/2 cup lemon juice (1-2 lemons)
1 tbsp heavy cream
1 finely chopped shallot
12 tbsp (1 ½ sticks) unsalted butter, cut into ½ inch slices, kept cold
Kosher salt and ground white pepper, to taste
Fresh chives finely chopped

Directions
Coat the bottom of a large sauté pan with extra virgin olive oil, and heat over medium heat for 2-3 minutes.
Pat the peeled and deveined shrimp dry with pap er towels. Season lightly with kosher salt and white pepper.
Add the shrimp to the pan in a single layer and cook for 1-2 minutes per side, until light pink.
Remove the cooked shrimp from the pan and trnsfer a platter or bowl. Cover to keep warm and set aside.
Cut the butter into ½-inch pieces, then put in the fridge until you're ready to use it.
To a small stainless steel saucepan add the wine, lemon juice, and shallots. Set over medium-high heat. Once it starts boiling, turn the heat down to medium, allowing it to simmer and reduce to about 2-3 tablespoons (will take around 10 minutes).
Once it's reduced, add the heavy cream to the saucepan. Whisk to combine, then lower the heat a bit to medium low.
Get the butter out of the fridge and add one piece at a time to the saucepan.
After adding each piece of butter, whisk quickly and vigorously using a wire whisk. As soon as one cube melts add another, making sure you keep whisking until all the butter has been incorporated. The sauce should be smooth and slightly thickened (if it's not, continue whisking for another minute or two).
Turn off the heat, season with a sprinkle of kosher salt and white pepper. Whisk, then taste and adjust seasonings to your liking.
Prepare each plate by dividing the shrimp evenly. Drizzle generously with the Lemon Beurre Blanc sauce.
Garnish with chopped chives and serve immediately.