19 Dec

Shrimp Cassoulet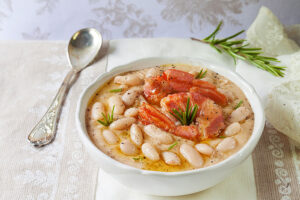 Serves: 4
Total time: 30 minutes
Ingredients:
1 pound Sail Brand 26/30 peeled and deveined shrimp
2 tablespoons olive oil
1 tablespoon butter
1 cup chopped onion
6 teaspoons minced garlic
¼ teaspoon red pepper flake
1/3 cup chopped flat leaf parsley
4 teaspoons all purpose flour
½ teaspoon sea salt
Black pepper to taste
½ cup dry white wine
3 ½ cups cooked cannellini beans, drained and rinsed
¼ cup water
1/3 cup unseasoned breadcrumbs
Instructions:
Preheat oven to 375f. in a large nonstick skillet over medium flame melt 1 tablespoon of butter and 1 tablespoon olive oil until butter turns golden brown. Add onion and saute until translucent then add garlic and pepper flakes.
Increase heat to medium high then add ½ cup of wine then add shrimp and 2/3 of the parsley reserving some for the topping. When shrimp turn pink, stir in flour and salt until combined. Add beans, pepper and water then transfer to a 1 ½ quart oven safe dish.
In a small bowl combine bread crumbs, 1 tablespoon olive oil and remaining parsley. Layer bread crumb mixture over top of filled baking dish. Then bake covered for about fifteen minutes, remove cover and bake until bread crumbs are golden.