13 May

Shrimp Egg Rolls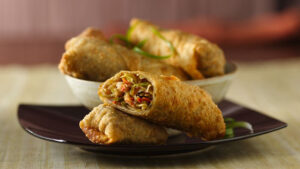 Serves: 6
Prep: 15 minutes
Cook: 15 minutes
Total: 30 minutes
INGREDIENTS:
2 Tbsp vegetable oil
12 oz minced cooked shrimp
Finely chopped scallions
2 cups finely shredded Chinese cabbage
¼ cup shredded carrots
8 water chestnuts sliced into small slivers
¼ cup minced celery
1 cup bean sprouts
Soy sauce to taste
Oyster sauce to taste
1 Tbsp rice wine
6 egg roll wraps
1 egg beaten
Note: Additional oil needed for deep frying
*Make sure to cover wraps with a damp towel during assembly.*
INSTRUCTIONS:
Heat 2 tablespoons of oil in skillet then stir fry cabbage, carrots, water chestnuts, and celery for 3 to 4 minutes. Add bean sprouts, scallions, soy sauce and shrimp then stir completely. Add salt and pepper to taste.
Prepare wrappers and add approximately 4 tablespoons of the shrimp mixture to the wrappers, ensuring that it is placed lengthwise with the mixture closer to one side of the wrapper. Brush edges with egg wash, then proceed to roll the wrap tightly, folding in the sides as it is rolled into a cylinder.
Heat oil to 375 degrees. Fry egg rolls several at a time until the skins are crisp and golden brown, turning them as they brown.
Drain on paper towels and serve with favorite dipping sauce.