07 Oct

Shrimp Gumbo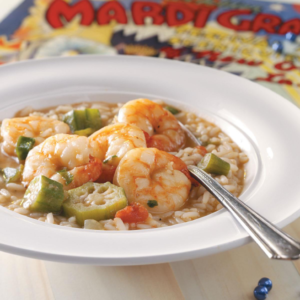 Serves: 11
Total Time: Prep: 30 min; Cook: 1 hour
INGREDIENTS:
1/4 cup all-purpose flour
1/4 cup bacon grease
3 celery ribs, chopped
1 medium poblano pepper, chopped
1 medium yellow onion, chopped
1 carton (32 ounces) chicken broth
3 garlic cloves, minced
1 teaspoon salt
1 teaspoon pepper
1/2 teaspoon cayenne pepper
2 pounds uncooked large shrimp, peeled and deveined
1 lb andouille sausage
1 package (16 ounces) frozen sliced okra
4 green onions, sliced
1 large tomato, chopped
1 can (6oz) tomato sauce
1 teaspoon Cajun seasoning
4 ea bay leaves
½ teaspoon dry thyme
2 teaspoons gumbo file powder
1 ½ tablespoons Worcestershire sauce
Hot cooked rice
INSTRUCTIONS:
In a Dutch oven over medium heat, cook and stir flour and grease until caramel-colored, stirring occasionally, about 12 minutes (do not burn). Add the celery, green pepper and onion; cook and stir until tender, for 5-6 minutes. Stir in the broth, garlic, salt, pepper and cayenne, herbs and Bay leaves; bring to a boil. Reduce heat; cover and simmer for 30 minutes.
Stir in the shrimp, okra, green onions and tomato. Return to a boil. Reduce heat; cover and simmer until shrimp turn pink, 10 minutes. Stir in file powder.
Taste and adjust seasoning if needed.
Serve with rice.