19 Dec

Shrimp Salad Croissant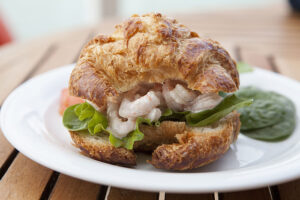 Serves: 6
Total time: 15 minutes
Ingredients:
6 sliced croissant
6 leaves of green leaf lettuce
10 ounces sliced fresh avocado
6 pickle spears
14 oz Sail Brand 71/90 raw peeled and deveined tail off shrimp
4 ½ tablespoons sour cream
7 tablespoons mayonnaise
5 ounces diced and blanched celery
7 ½ ounces diced fresh mango
2 ¼ tablespoons chiffonade fresh basil
1 teaspoon ground black pepper
Instructions:
Steam shrimp until cooked through, approximately one minute. Cool shrimp immediately.
Combine sour cream, mayonnaise, blanched celery, mango, basil, and pepper then proceed to mix well. fold in the shrimp then refrigerate
Place lettuce on the heel of croissant then top with 3 ½ ounces of mango shrimp salad, then 3 slices avocado. Place crown on top and serve.