22 Nov

Shrimp Stuffing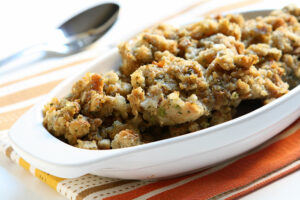 Prep time: 25 minutes
Cook time: 30 minutes
Ingredients
4 (1 1/2 to 2 lb.) lobsters
1/4 cup butter
1 medium size onion, chopped
1 celery rib, chopped
1 clove garlic, minced
1 ó lb. raw shrimp, cleaned, peeled and deveined (71-90)
1 teaspoon Old Bay seasoning
1 package seasoned stuffing mix
1/4 cup chopped parsley
1 cup chicken stock
Salt and pepper
Directions
Preheat oven to 350°F.
Fill a large lobster pot 3/4 full of salted water and bring to a boil. Plunge lobsters head first, cover and cook until almost done, about 7 minutes. Drain and cool lobsters in an ice bath. Place lobster on its back and using scissors or sharp knife, cut down from the middle of its head, down to the tail making sure not to cut completely through the shell. Clean and rinse the stomach sack. Refrigerate while preparing stuffing.
Melt better in a large skillet. Add onions and celery and sauté for about 3 minutes, add garlic and old bay and cook for another minute. Add shrimp and cook for about 5 minutes or until shrimp is cooked through. Season with salt and pepper. Add stock and let it come to a simmer. Remove from heat and add stuffing mix and parsley. Mix well. Taste and adjust seasoning if needed.
Place lobsters on baking sheets lined with aluminum foil. Open cavity and spoon stuffing inside. Bake about 15 minutes or until it's heated through. Serve with melted butter and lemon wedges.