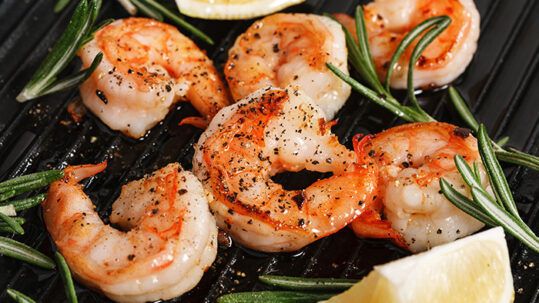 15 Nov

Two Delicious Seafood Dishes Guaranteed to Warm You Up This Fall

The warm embrace of a summer breeze has slowly slipped away and brought in crisp fall leaves and ringing school bells once again. For some, this may be an unwelcome change of season, but for others, it marks the resurgence of stick-to-your-ribs-type dishes. If you're preparing your recipes for the colder season, you're in the right place! Here are some of our favorites.
Snow Crab Shrimp Cheese Dip
Cheesy, hot snow shrimp dip is the ultimate party snack and comfort food! It's decadent, cheesy, but at the same time a bit elegant. It also pairs perfectly with champagne, cocktails, or whatever you happen to be imbibing to welcome the new year.
For this recipe you'll need:
3 tablespoons butter
½ cup red bell pepper, chopped
½ cup yellow onion, chopped
1 lb medium Eastern Fish shrimp, peeled and deveined, tail off
Cut shrimp into large chunky pieces
1 lb cream cheese
½ cup heavy cream
8 oz Monterey Jack cheese, shredded
½ teaspoon salt
¼ teaspoon black pepper
½ tablespoon hot sauce
1 tsp Cajun seasoning or seafood seasoning
8 oz cooked Snow Crab
¼ cup green onion, chopped
How to Make Snow Crab Shrimp Cheese Dip
Pre-heat a large skillet or pan over medium-high heat. Melt the butter, add the bell pepper and yellow onion. Sauté for 3 minutes, then add the shrimp. Cook for 4 minutes.
Stir in the cream cheese, heavy cream and cheese until fully melted.
Stir in the salt, black pepper, hot sauce and seasoning.
Add the snow crab and green onion. Blend and turn off the heat.
Serve warm with crackers or toasted bread.
Sautéed Mushrooms and Garlic Butter Wild Mexican Shrimp
For those who love seafood and tasty mushrooms, this dish is a quick and easy dinner idea with a ton of flavor. To indulge in this recipe, you'll need:
2 lbs of large, wild Mexican shrimp, peeled and deveined, tail on
(any shrimp can be substituted)
3 tablespoons extra virgin olive oil
3 tablespoons butter
1 tablespoon chopped garlic
8 oz sliced white or brown mushrooms
1/8 teaspoon red pepper flakes
½ teaspoon sea salt or kosher salt
¼ teaspoon black pepper, course ground
Juice from ½ lemon
1 tablespoon chopped fresh parsley
How to Make Sautéed Mushrooms and Garlic Butter Wild Mexican Shrimp
Preheat a large sauté pan over medium high heat. Add the oil and the butter.
Add the garlic and sliced mushrooms. Cook for 2 minutes.
Add red pepper flakes, salt, and pepper along with the shrimp. Cook the shrimp for about 4-5 minutes, while flipping constantly.
Finish with lemon juice and parsley (Shrimp should reach minimum internal temperature of 145°F).
Serve with rice or over pasta and enjoy!
The coldest season may be just beginning, but don't wait until the frost starts to settle in on your windshield to start cooking your winter comfort foods! Get in touch with us to find out more!