07 Nov

Warm Winter Gazpacho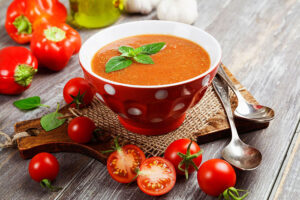 Serves: 6
Total Time: 15 minutes
Ingredients:
3 cups of quartered, seeded and chopped fresh tomatoes
1 large cucumber, peeled, seeded and chopped
1 cup chopped onion
1 chopped red bell pepper
1 minced garlic clove
2 tablespoons of fresh basil, thyme, oregano and parsley
¼ teaspoon smoked paprika
¼ teaspoon coarse ground black pepper
2 cups low sodium tomato juice
2 tablespoons extra virgin olive oil
1 ½ pounds of Just Fish cod portions, 6 pieces
Chopped scallions for garnish
Instructions:
Place first 8 ingredients in a food processor and puree until its well mixed but still has a coarse texture
Add the tomato juice and pulse once or twice to blend
Warm the finished gazpacho to serving temperature but don't bring to a boil
Heat the olive oil in a large skillet over medium heat until it just starts to smoke. Saute the fish for 2 minutes per side until its lightly browned with an internal temperature of 150f.  ladle soup into serving bowls and place the fish on top so it appears to be floating. Then garnish with scallions.