21 Apr

Wild Caught Cod Cinco De Mayo Taco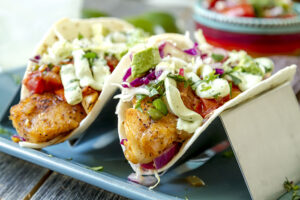 Serves: 4
Prep Time: 10 minutes
Cook Time: 10 minutes
Total: 20 minutes  
INGREDIENTS:
1 bag/12 oz Just Fish Wild Caught Cod
1 tsp ground cumin
1 oz toasted pepitas
2 fresno chili peppers, sliced
1 tbsp chopped cilantro
2 oz mayonnaise
1 tsp honey
2 oz pureed chipotle adobo
1 lime, juiced
8 six-inch flour tortilla
INSTRUCTIONS:
Place frozen Just Fish on a baking sheet and cover with foil.
Bake in a 425f preheated oven for 10 minutes.
Remove foil then bake uncovered another 5 minutes.
Stir in cumin, salt, and pepper, mixing well. Garnish with pepitas and fresno chiles.
In a separate bowl, combine pureed chipotle adobo, mayonnaise, cilantro, honey, and lime juice. And salt, then mix well.
Toss fish to flake, then scoop equal amounts of cod onto tortillas. Top with chipotle sauce and serve with beans and rice.