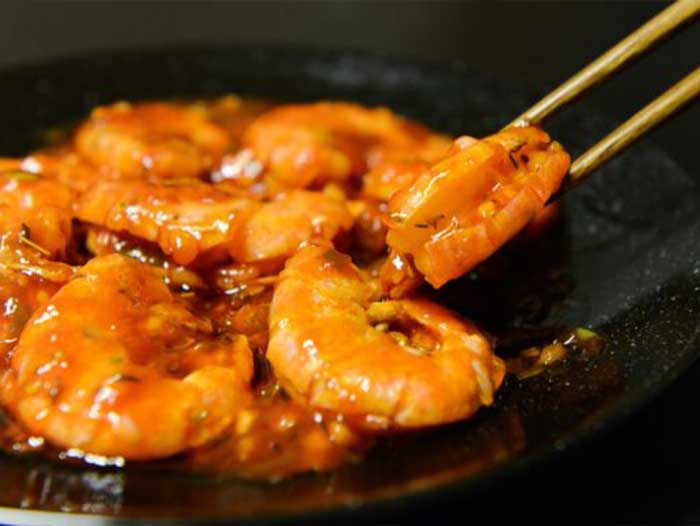 01 Jun

3 Mouth-Watering Shrimp Recipes You Can Make at Home

Lemon-baked shrimp, honey-garlic glazed shrimp, shrimp sushi, and shrimp cocktails. Pssst. We can see you drooling! If you're looking for some delicious shrimp recipes, we've got what you need. Not only will you have a to-die-for shrimp, but you will also have all of the wonderful health benefits of shrimp.

"What benefits?" You ask? Well, we're happy you asked! Shrimp are rich in omega-3 fatty acids—these acids are thought to aid in a healthy heart and maintaining skin, joints, and hormonal balances. Not only that, but 85-grams of shrimp contains 20.4g of protein, 0.433mg of iron, and is only 84.2 calories!

Okay, we hear you. You just want the good stuff. Well, it's a good thing we have wonderful recipes for you to dive into! Here we go.
Firecracker Shrimp
¼ cup maple syrup
1 medium jalapeno, cut in half width-wise
1 clove garlic, minced
1 tablespoon rice wine vinegar
½ teaspoon salt
⅛ teaspoon black pepper
6 ounces of shrimp
salt and pepper to taste
2 teaspoons maple syrup
Directions
Step 1
Combine 1/4 cup maple syrup, 1/2 of the jalapeno pepper, garlic, vinegar, salt, and black pepper in a mini food processor or small blender jar; blend until smooth.
Step 2
Place shrimp in a gallon-sized resealable plastic bag. Pour marinade on top, seal, and refrigerate for 20 minutes. Remove from refrigerator and let the bag sit at room temperature for 10 minutes.
Step 3
Preheat the oven to 425 degrees F (220 degrees C). Line a baking sheet with parchment paper.
Step 4
Remove shrimp from marinade and pat dry. Place shrimp on the prepared baking sheet and season with additional salt and pepper. Slice remaining jalapeno pepper thinly and place on top of shrimp.
Step 5
Bake in the preheated oven for 10 minutes. Brush 2 teaspoons maple syrup onto the shrimp and return to the hot oven. Bake an additional 3 to 5 minutes.
Maple Shrimp
¼ cup maple syrup
2 tablespoons soy sauce
1 clove garlic, minced
¼ teaspoon garlic salt
⅛ teaspoon ground black pepper
1 pound shrimp
Directions
Step 1
Stir together maple syrup, soy sauce, garlic, garlic salt, and pepper in a small bowl.
Step 2
Place in a shallow glass baking dish, and coat with maple syrup mixture. Cover the dish and marinate shrimp in the refrigerator for 30 minutes, turning once halfway.
Step 3
Preheat oven to 400 degrees F (200 degrees C).
Step 4
Place the baking dish in the preheated oven and bake shrimp uncovered, for about 20 minutes.
Baked Dijon Shrimp
¼ cup butter, melted
3 tablespoons Dijon mustard
1 ½ tablespoons honey
¼ cup dry bread crumbs
¼ cup finely chopped pecans
4 teaspoons chopped fresh parsley
4 ounces shrimp
salt and pepper to taste
1 lemon, for garnish
Directions
Step 1
Preheat oven to 400 degrees F (200 degrees C).
Step 2
In a small bowl, stir together butter, mustard, and honey. Set aside. In another bowl, mix together bread crumbs, pecans, and parsley.
Step 3
Brush each shrimp lightly with honey mustard mixture, and sprinkle the tops with the bread crumb mixture.
Step 4
Bake shrimp for 12 to 15 minutes in the preheated oven. Season with salt and pepper, and garnish with a wedge of lemon.
Ready to give one of these shrimp recipes a try? At Eastern Fish Company, you can choose from our SAIL premium quality shrimp or our Golden Harvest shrimp. We are awaiting your orders today!